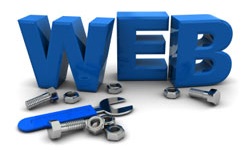 Darby Consulting knows how to provide services as a Web Master. Our staff have been managing various web sites for 10+ years. A Web Master should be
knowledgeable about the technology, not just the administration menu
. Darby staff bring the knowledge of Web Site programming to the task of Web Mastering, to ensure that it gets done correctly. They know how to leverage the available features in a particular web framework because they have written so many of them. And if the feature is not currently supported by your web site software, Darby knows how to develop it as an enhancement.
Some of the tasks
we can do for your web site include:
The Darby Consulting web site is an example at this point. It has been up and running since . Throughout that time, the staff at Darby has acted as the only Web Master. The current version of this web site is , which includes a new logo, new portfolios, additional bootstrap styling, and the addition of a WordPress Blog as a child site. In other words, this site has integrated raw HTML5 pages with a WordPress Blog. We can do that for you, too. All of these changes were done by the staff at Darby Consulting. Let us be your Web Master too.